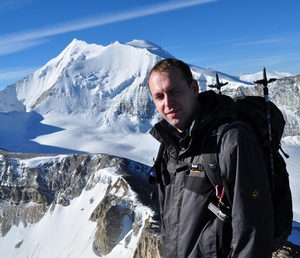 I am an Assistant Professor at Aarhus University in Denmark, working on the Creative Tools and CoCreate projects at the Centre for Digital Creativity. My work and research interests are in a wide range of topics within the field of Human-Computer Interaction (HCI), including but not limited to sustainable HCI, sustainable interaction design, ubiquitous computing, HCI design patterns, HCI for development, issues of evaluation, design and creativity, and interactive technologies.
Before moving to Aarhus in February 2018, I did my PhD and a post doc in Computer Science at ZPAC, the People and Computing Lab at the University of Zurich, Switzerland, led by Prof. Elaine May Huang. In my PhD thesis I tackled issues of obsolescence and e-waste by applying theoretical frameworks from Sustainable HCI to product design practice. In particular, my approach focused on integrating design guidelines into the design process with the goal to encourage a stronger bond between a device and its owner, preventing disposal and ultimately reducing e-waste. For more details, take a look at my project page and my publications or read my PhD thesis.
Here is a verbose version of my CV which I frequently update.
In case you were wondering about the pictures: I am a passionate hiker; both pictures were taken at the top of Barrhorn. You can find plenty of hiking pictures on my flickr account.
Schedule
2019, July 25: UIST 2019 paper accepted - read our paper on Videostrates here and come see main author Clemens Klokmose present the work in New Orleans, where we will also present a demo of the system! Collaborators are Janus Bager Kristensen, Rolf Bagge, Michel Beaudouin-Lafon, and Wendy Mackay. Check out the video here!
2019, June 20: We published the insights of our study about creative writing at ECCE, where Michael Mose Biskjær will present our paper (read a pre-print here).
2019, May 15: In just over a month, Jonas Frich will present our paper on digital tools usage of creative professionals' at the Creativity & Cognition conference in San Diego, co-authored by Lindsay MacDonald Vermeulen, Michael Mose Biskjær, and Peter Dalsgaard.
2019, April 5: In June, Sarah-Kristin Thiel will be leading a workshop on gameful creativity at the DIS conference in San Diego. Co-organizers of the workshop are Licinio Roque, Rita Orji, Peter Dalsgaard, Celine Latulipe, and Sayan Sarcar.
2019, January 16: We are excited to announce our upcoming CHI 2019 paper analyzing the landscape of creativity support tools, co-authored by my colleagues Jonas Frich, Lindsay MacDonald Vermeulen, Michael Mose Biskjær, and Peter Dalsgaard. Stay tuned for Jonas's presentation in Glasgow! In the meantime, read the final version of the paper here and also see our supplementary file comprising the coding results.
2018, December 10: Interested in technological innovation and HCI, but concerned about sustainability, the environment, or social justice issues? Submit to our CHI 2019 workshop! You get the chance to meet a lot of interesting people, as the list of organizers includes Oliver Bates, Kathy New, Matthew Louis Mauriello, Roy Bendor, Simran Chopra, Adrian Clear, Samantha Mitchell-Finnigan, Samuel Mann, and Chris Preist.
2018, August 22: Based on the outcomes of our social justice SIG at CHI this year, we published an interactions article (pre-print here) - another great collaboration with Oliver Bates, Vanessa Thomas, Adrian Friday, Lisa Nathan, Mike Hazas, and Samuel Mann.
2018, May 28: We're excited to announce our workshop titled "Digital Tools for Collaborative Creative Work" together with Peter Dalsgaard, Jonas Frich, Lindsay MacDonald Vermeulen, and Michael Mose Biskjær at NordiCHI 2018 in Oslo, Norway. The workshop will take place either on September 29 or 30 - for more information visit the workshop website or read our extended abstract!
2018, February 14: Together with my colleagues Oliver Bates, Vanessa Thomas, and Matthew Broadbent we wrote about the challenges of engaging with stakeholders in projects that target sustainable issues. I will present the paper in May at the ICT4S conference in Toronto, Canada.
2018, February 2: We have two Special Interest Group meetings accepted at CHI 2018! One is called "Evaluating HCI Research beyond Usability", inspired by our accepted paper, and co-authored with Oliver Bates, Jennifer Mankoff, and Adrian Friday. The other SIG is a meeting of people interested in Sustainable HCI, which is led by Oliver Bates and co-authored by Vanessa Thomas, Lisa Nathan, Samuel Mann, and Adrian Friday.
2018, February 1: I moved to Aarhus University in Denmark and started working as an Assistant Professor at Aarhus University in Denmark, working on the Creative Tools and CoCreate projects.
2017, December 12: Our paper "Evaluation beyond Usability: Validating Sustainable HCI Research" has been accepted into the CHI 2018 program. The paper, which I will present in Montreal in April 2018, was co-authored with Oliver Bates, Alan Dix, Vanessa Thomas, Mike Hazas, Adrian Friday, and Elaine M. Huang.
2017, June 22-24: Both our papers have been accepted into the LIMITS 2017 conference - read here where we see limits in evaluating sustainability as well as limits in the current HCD ISO.
2017, May 6-11: I will present our note (written by Vanessa Thomas and co-authored by Oliver Bates, Mike Hazas, and myself) at CHI 2017 in Denver on Thursday, May 11, 3:30pm. We are excited to announce that it even won an Honorable Mention Award (top 5%)!
2017, April 5: After successfully defending my PhD earlier this year, I have now published my PhD thesis.
2016, July 27: Had the pleasure of being interviewed by Samuel Mann for the Sustainable Lens radio show at CHI 2016. Check out the interview here which is available both as audio file as well in nearly full transcript.
2016, May 7-12: At CHI 2016 in San Jose, where I will attend the "Design patterns, principles, and strategies for Sustainable HCI" workshop (read my position paper here).
2016, March 2: Holding a public lecture about e-waste, obsolescence, and sustainable HCI at IT University Copenhagen.
2015, August 3: The LIMITS '15 workshop papers have been accepted as a Special Issue for First Monday. You can find the entire Special Issue, including a revised version of my LIMITS paper, here.
2015, June 15-16: Attending the First Workshop on Computing within Limits in Irvine, California (read my position paper here).
2015, April 18-23: Presenting my research as a full paper and in the Doctoral Consortium at CHI 2015 in Seoul.
2014, August 24-27: Presenting my book chapter about obsolescence-related research in SHCI at ICT4S 2014 in Stockholm. At the same conference, I will also be panel speaker on "Sustainable Interaction Design" and participate in two SHCI workshops.
2014, April 26-May 1: As part of my trip to CHI 2014 in Toronto, I will attend the SHCI workshop (my position paper here).
2013, September 8-12: I will be SV co-chair at Ubicomp 2013 (in Zurich) together with Simon Mayer. To facilitate our work, I have built a tool, the SV Doodle, which is now publicly available.
2013, September 2-6: Presenting the work from my internship at IBM Research New Delhi at INTERACT 2013 in Cape Town (full paper, poster).
2013, April 27-May 2: I will be Student Volunteer at the CHI 2013 conference in Paris.
2013, April: The interactions magazine published my article on insights from marketing research for SHCI.
2013, April 12: Successfully defended my PhD proposal at the Institute for Informatics, University of Zurich, titled "Creating Support for Sustainable Design of Consumer Electronics".
2013, February 13-16: Together with Wolfgang Lohmann I organized a Greenhackathon as a pre-conference activity for the first ICT4S conference in Zurich.
2012, June-September: I will be interning at the IBM Research lab in New Delhi, India, to work on the Spoken Web project, advised by Arun Kumar. I will try to share some of my experiences on my blog.
2012, May 5-10: As part of my trip to CHI 2012 in Austin, I will attend the SHCI workshop (my position paper here).
2011, May 7-12: Presenting the madness for our short paper at CHI 2011 in Vancouver, where co-author Malte Weiss will present the note itself.
2010, December 1: Started as PhD student at ZPAC, the People and Computing Lab at the University of Zurich, Switzerland, under the supervision of Prof. Elaine May Huang.
2010, July: Graduated from RWTH Aachen University as Diplom Informatiker (equiv. Masters of Computer Science) after finishing my master's thesis.
2010, July 7-10: Attending EuroPLoP 2010 in Bavaria, where my pattern language paper will be discussed in a Writers' Workshop.